O projecto desta semana foi feito a pedido.
O objectivo era construir um circuito que simulasse a bomba nos jogos de airsoft ou paintball.
A equipa adversária necessitaria de desactivar a bomba antes da contagem chegar ao fim para ganhar o jogo.
O circuito iria ter uma contagem decrescente ( definida pelo utilizador ) e um código ( também definido pelo utilizador ) ou chave para armar e desarmar a contagem.
This week's project was made as a request.
The objective was to build a circuit that could simulate an airsoft or paintball bomb.
The rival team needs to deactivate the bomb before the countdown ends to win the game.
The circuit will need a countdown timer ( time defined by the end user ) and a password ( also defined by the end user ) or a physical key to arm and disarm the countdown.
Para este projecto utilizei o microcontrolador 16F876A com 28 pinos.
For this project i used a 16F876A microcontroller with 28 pins.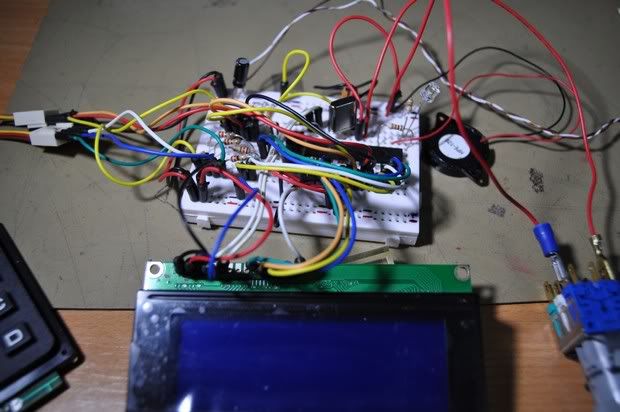 Utilizei para demonstração um display lcd 20x4 e um teclado de matriz 4x4 mas o projecto foi projectado para utilizar um display lcd 16x2 e um teclado matriz 4x3.
For the demonstration i used a 20x4 lcd display and a 4x4 matrix keypad but the project was designed to use a 16x2 lcd display and a 4x3 matrix keypad.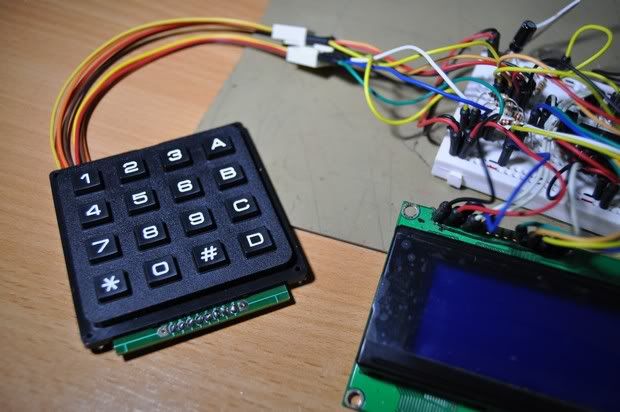 O microcontrolador foi programado com um menu de setup onde nele é possível definir o tempo e código.
O tempo máximo é de 99 minutos e 59 segundos. O código é composto por 4 dígitos.
The microcontroller was programed with a setup menu where it's possible to define the time and code to be used.
The maximum time allowed is 99 minutes and 59 seconds. The code is a 4 digit password.
Para aceder ao menu de setup, basta colocar o jumper de programação na posição "ligado" antes de ligar a alimentação.
Ao ligar a alimentação o circuito entrará no modo de setup.
To access the setup menu, the programming jumper must be placed in the "ON" position before turning the power on.
When turning the power on the circuit will enter the setup mode.
O primeiro passo será introduzir o tempo para a contagem decrescente.
The first step is to input the countdown time.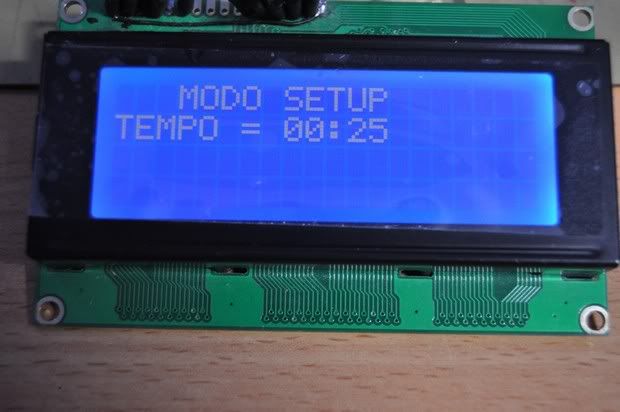 Depois de colocado o tempo, é pedida uma confirmação. Caso esteja correcto segue para o próximo passo.
Once the time is typed in, is requested a confirmation. If everything is ok it will go to the next step.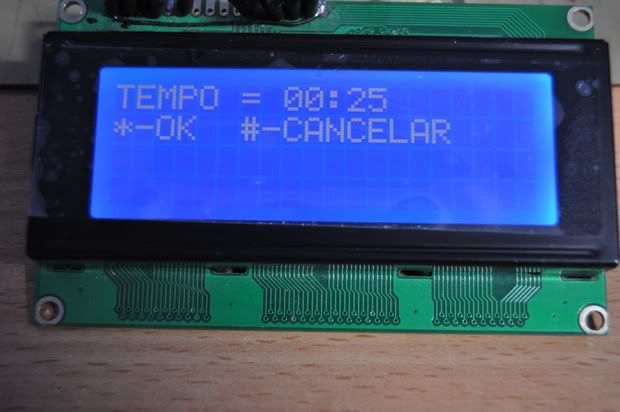 De seguida escolhe-se o código composto por 4 dígitos.
Next is requested to input the 4 digit password.
Mais uma vez é pedida a confirmação dos dados.
Once again a confirmation is requested.
Uma vez colocados os dados, o microcontrolador irá guardar em memória estes parâmetros.
Assim, mesmo desligando a alimentação os dados serão sempre recuperados da memória.
Depois de gravados os dados internamente, o sistema pede para repor o jumper na posição normal para depois reiniciar automaticamente.
After all the parameters are typed in, the microcontroller will store them in his internal memory.
Even after the power is turned off, the data will remain in memory and recovered when turned back on.
As soon as all the data is recorded, the system indicates that the jumper needs to go back to the normal position before it can restart.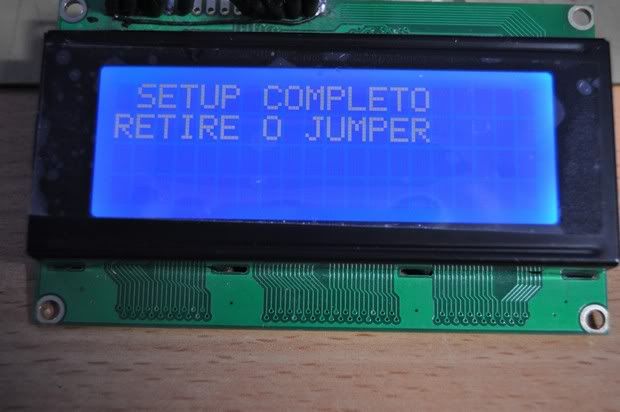 Depois de iniciado o sistema o jogo começa assim que a chave fique na posição "activada" e a tecla "*" seja premida.
A contagem decrescente inicia. Um piezo foi adicionado produzindo um bip a cada segundo.
With the system restarted, the game starts as soon as the physical key is on the "ON" position and the "*" key is pressed.
The countdown starts. A small piezo was added making a bip noise every second.
A partir de agora existem 2 possibilidades de desarmar a contagem dependendo de como as equipas quiserem o seu jogo.
From now on there are 2 possibilities to disarm the countdown depending on how the teams what their game.
1- é utilizada a chave, rodando para a posição "Desactivada" para parar a contagem e assim terminar o jogo
2- é colocado o código correcto para parar a contagem e assim terminar o jogo.
1- The physical key is used, turning the key to the "OFF" position stops the countdown and the game ends.
2- The correct password is typed in to stop the countdown and the game ends.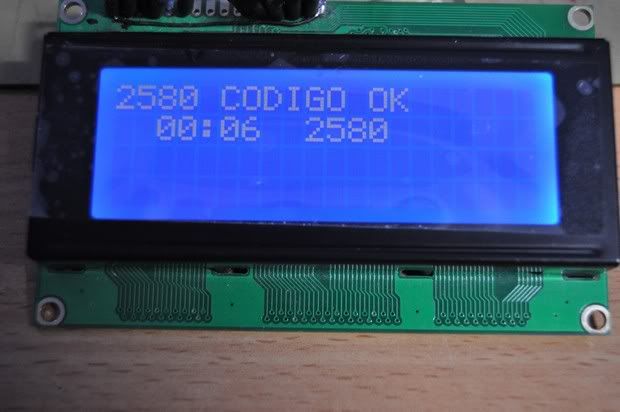 Caso seja utilizada a chave, basta rodá-la e assim termina automaticamente a contagem.
Caso seja utilizado o teclado, é necessário acertar no código de 4 dígitos.
Em ambos os casos, irá aparecer a indicação que foi desarmada e o tempo que restava.
In case the physical key is used, the player just needs to turn it and the countdown will stop.
In case the keypad is used, the player must type in the correct password for the countdown to stop.
In both cases, the display will show that it was disarmed and how much time was left.
Se o código introduzido não for o correcto, aparecerá a indicação que o código não é valido. A contagem segue sempre em segundo plano até que seja desactivada ou chegue a zero.
If the wrong password is typed , the display will show that the code is not valid. The countdown will keep counting in the background until the it's disarmed or reaches zero.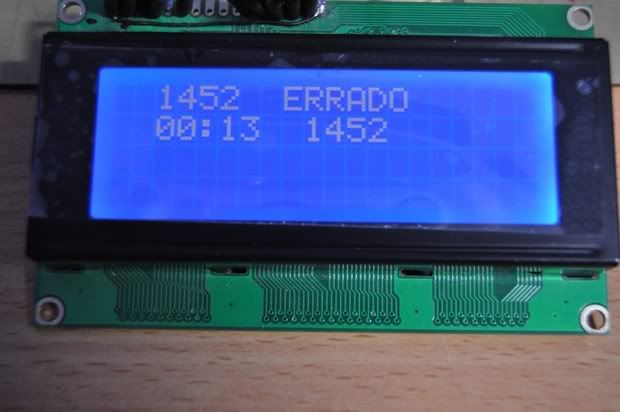 Uma vez a contagem chegada a zero, aparece a mensagem no display que a contagem terminou.
Nesta altura o pino 3 do microcontrolador activa um relé. Este relé serve para adicionar um dispositivo externo tal como uma lâmpada ou sirene indicando o fim do jogo e a derrota da equipa atacante.
If the countdown reaches zero the display will show a message that the countdown ended.
At that time the microcontroller pin 3 will trigger a relay. This relay can activate an external device such as a lamp or a siren indicating that the game is over and that the attacking team lost.
Também é accionado um impulso no pino 5. Este impulso possibilita colocar um servo para movimentar uma bandeira ou algo similar.
Also pin 5 will output na impulse. This impulse can be used to make a servo rotate and move something like a flag, for example.
Eis o esquema do projecto.
Here's the schematic of this project.
Este é o aspecto que fica montado numa placa PCB. Uma vez que este projecto era para ser usado no terreno, adicionei uma mini sirene de 107dB de potencia que é activada quando o tempo chega ao fim.
This is the circuit assembled on a PCB. This project will be used in the field so i've added a mini piezo siren with 107dB output which is activated when the time has ended.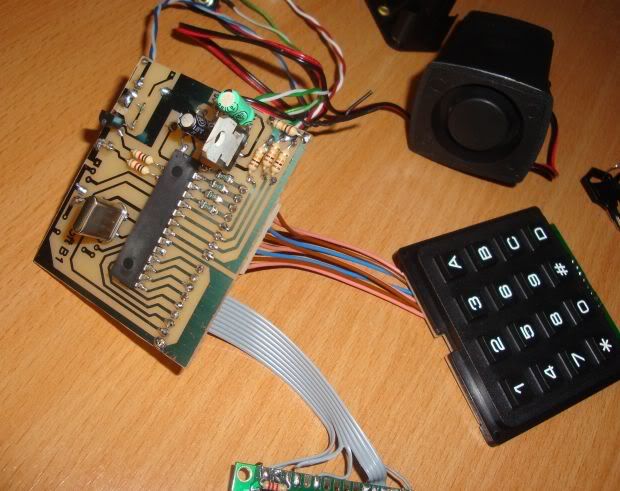 E aqui fica um pequeno vídeo demonstrativo do circuito a funcionar.
And here's a small video showing the system working.
Por fim, fica um pequeno video do projecto numa caixa a funcionar.
Last but not least is a small video of the project installed in a box and working.