Este foi mais um projecto a pedido.
O objectivo era construir um sistema que transmitisse mensagens escritas de alerta e ao mesmo tempo buzina e iluminação de segurança para uma cadeira de rodas electrica.
As mensagens seriam algo do genero "Obrigada","Cuidado"e "Atenção - cadeira eletrica".
Once again, this was a requested project.
The objective was to create a system that could display written alert messages and at the same time equip the electric weelchair with sound and light capability.
The messages would be something like "Thank you", "Careful" and "Warning - Electric wheelchair".
Para este projecto decidi utilizar um microcontrolador 16F88 que comanda um painel luminoso de matriz 8x32 de leds vermelhos da Sure Electronics.
For this project i decided to use a 16F88 microcontroller to control a 8x32 red led matrix message board from Sure electronics.
Na placa de ensaios, testaram-se as palavras e afinou-se o tipo de letra para este painel luminoso.
Foi adicionado um led indicador de que a mensagem estava a ser exibida. Desta forma a pessoa na cadeira de rodas saberia sempre que uma mensagem estava a ser exibida bastando olhar para este led.
Para a palavra "Cuidado" e ao contrário das outras, decidi coloca-la a piscar para melhor chamar a atenção.
While on the breadboard, i've tested the words and tunned the fonts for this message board.
I've added a led indicating that the message is being displayed so that the person on the wheelchair would know it's working.
For the word " Carefull" and unlike the others, i decided to make it blink for better awarness.
Uma vez testado e validado todo o circuito, era necessário criar uma placa de circuito impresso e uma protecção exterior a todos os circuitos.

Os botões escolhidos foram uns com um tamanho consideravel e com pouca força mecanica para ser facil carregar em cada uma delas.
O botão que acciona a buzina teve uma cor diferente para ser imediatamente reconhecido como sendo de função especial.
Once tested the entire circuit, it was necessary to create a circuit board and protection box for all components.
The buttons needed to be large enough and mechanically soft so that the person could easly push them.
The button that triggers the horn has a different color from the others to be immediatly recognized as being a special function button.
Para accionar as mensagens e controlar as luzes, foram colocados os botões numa caixa que seria colocada junto do joystick da cadeira. Uma placa de acrilico de grande resistencia foi desenhada para fixar a caixa dos botões junto com o joystick e desta forma acompanharia o braço que é movel.
To display the messages and control the lights, the buttons were installed in a box that was placed next to the wheelchair's joystick.
A strong acrilic board was designed to hold the button box along with the joystick console and this way move along with the flexible arm.

Para a placa principal e para o painel de mensagens foi desenhada e construida uma caixa em acrilico.
Esta caixa construida em acrilico fosco, possui uma parte transparente na parte frontal na zona do painel.
For the main controller board and message board i designed an acrilic box.
The box was built with non clear acrilic but with a clear area in the front only for the led matrix.
Para a buzina, foi usada uma sirene mini piezo de 107dB de potencia sonora.
Tanto a sirene como o painel ficaram dentro da caixa de acrilico para ficarem protegidos de impactos e das condições atmosféricas.
For the horn, i've used a mini piezo horn that can output 107dB of sound.
Both siren and message board are installed inside the box to be protected from any direct impact and weather.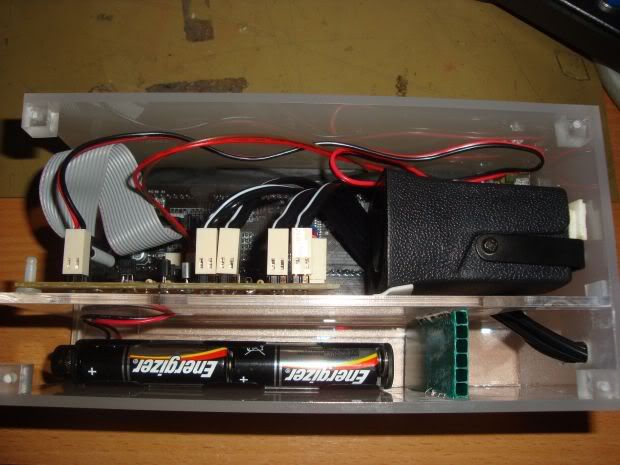 Todas as ligações a componentes externos á placa principal são feitas com fichas molex.
All external components are connected to the main board with molex connectors.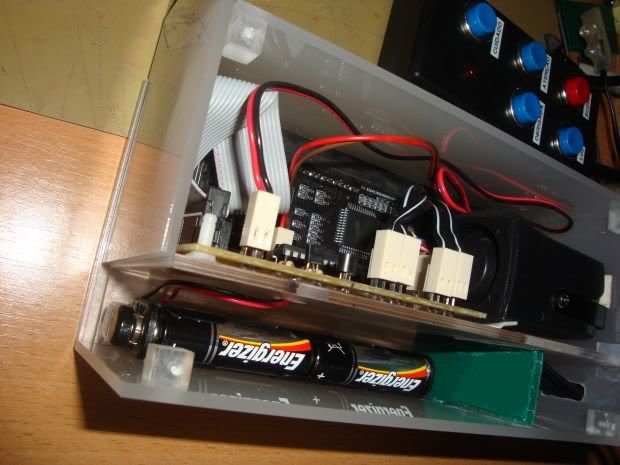 Na lateral direita foi pensada numa abertura facil para a troca das baterias. Essa abertura desliza para cima e apenas uns centimetros, o suficiente para aceder ás pilhas e sem ficar com os componentes electronicos á vista.
On the right side an easy opening is available to exchange the batteries. This opening slides up but only a few centimeters, the required to access the battery holder leaving the electronic components covered.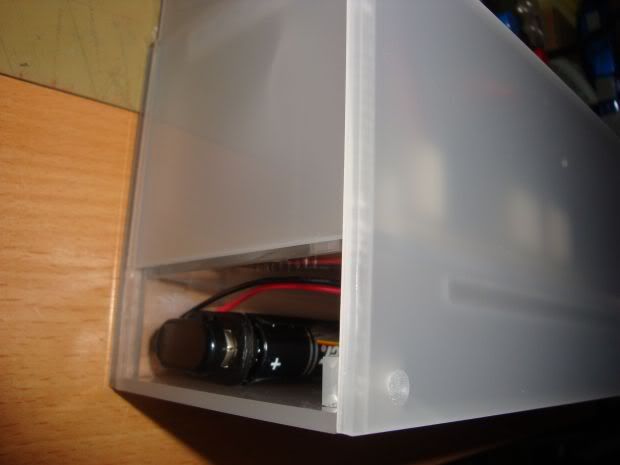 Na parte lateral esquerda fica o interruptor geral e a saida para os fios dos leds e para a caixa dos botões.
On the left side is the main switch and an opening for the cables to the leds and button box.
Os leds ( 4 conjuntos de 2 leds de alto brilho ) foram instalados da seguinte forma: 2 brancos á frente e 2 vermelhos atrás.
The leds ( 4 sets of 2 high brightness leds ) were installed like: 2 white sets in front and 2 red sets in the back of the weelchair.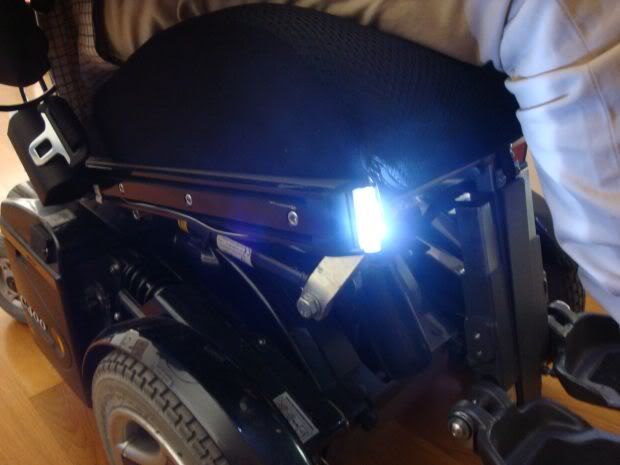 O painel com toda a electronica foi colocado na parte traseira da cadeira juntamente com os 2 conjuntos de leds vermelhos.
The box with all the main electronics was placed on the backside of the wheelchair.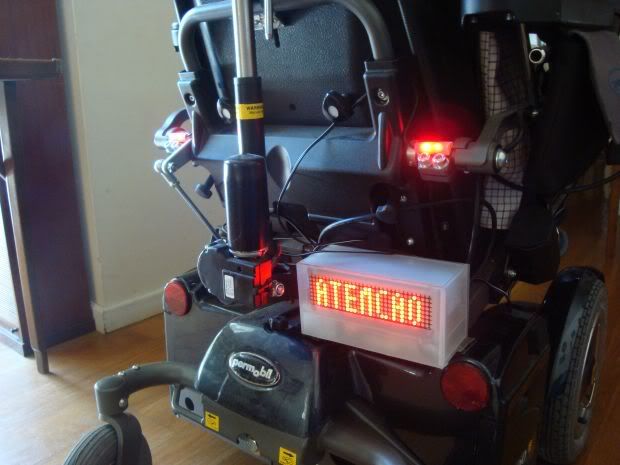 Em baixo podem ver um pequeno video do painel a funcionar quando ainda estava na placa de ensaios.
Bellow is a small video of the led matrix displaying the messages while on the breadboard.